Javapolis: Spirit of Friendship
Yesterday I was surprised about what I saw in the Javapolis homepage. Stephan, the Javapolis chairman, published my picture there! Actually, I'm a simple guy, a little bit shy and I don't want to become famous, but it is very cool for me and totally unexpected.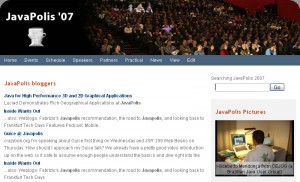 What I would like to say is that Javapolis is not yet another Java conference. It is a moment for friendship, where people are more important than technologies. Where everybody is simple, even our Java superstars.
I don't have doubts that it is a positive Java User Group influence. I remember in the last Jazoon conference, when Felipe Gaúcho started to promote the community through the official web blog. The conference became more soft, more people oriented, less technical, less corporative. I also appeared there thanks to my friendship with Gaúcho. Javapolis is a little better in this aspect: we became friends by e-mail, in one or two messages, in one or two days.
Javapolis will be great because there exists an excellent team promoting it and because everyone will do the same spontaneously.