A Framework for the Future of the User Interaction
If you follow my blog, you may know about my interest on the extreme usability era (1, 2). You may also know that this interest was born during the eNTERFACE workshop in Paris. So, this interest has been growing every day in an intense manner that made me choose this subject as the theme of my PhD research project at UCL. More: I decided to start an open source project, first to share my knowledge and second, to get contributions from the community.
The project was published at: http://kenai.com/projects/meanings4fusion. It is hosted by the project Kenai, a Sun Microsystems initiative to support open source projects. I've just registered the project this morning, so you will not find so much information there. However, if you believe that extreme usability is a reality and it will directly affect you in a short-term, then I recommend to get involved from now on and participate on all discussions and initial implementations.
I'm not doing it alone, of course. David Gómez, Daniel Neiberg, Olga Vybornova and Ao Shen are also involved and they are founders too. Actually, we started everything during eNTERFACE and it is a continuation for consolidation. This is a challenging project and we really worked hard, as you can see in the picture below.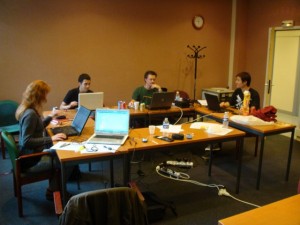 From the left to the right: Olga Vybornova, David Gómez, Daniel Neiberg, Ao Shen and me, holding the camera.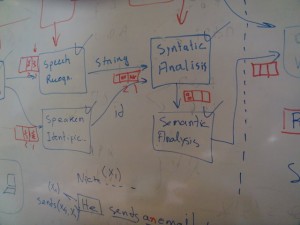 Some thoughts about the architecture.