Featured on Oracle's Java Magazine
I'm glad to see I was featured on the latest edition of Oracle's Java Magazine (Issue January/February 2013, page 67). I would like to thank Oracle on behalf of the CEJUG Community. We have been partners for so long and this is a nice way to demonstrate that you guys, at Oracle, recognise our contribution to the Java Community.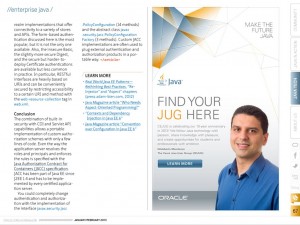 It's important to say that they cut part of my hair using Photoshop. I'm actually more handsome than it looks like… hehehehe 😀 Joking! Back to work!